The architectural styles of the homes at Prairie Trail have created a community alive with the charm and character reminiscent of Iowa's great neighborhoods. It's the unique and carefully planned architectural elements that make Prairie Trail a beautiful tapestry of diverse and distinctive homes, neighborhood stores, nearby offices, schools and parks.
The European Romantic is one of four in the palette of architectural styles you'll find in the 1,031 acre planned urban development. All home styles mirror the romantic periods of domestic architecture common in this region during the early 1800's and late 1900's. The European Romantic is based on 20th century interpretations of English architecture by American architects and borrows many elements from cottages, manor houses and rural village homes.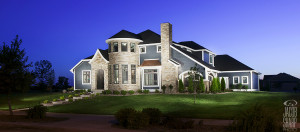 What's your style?
Learn more about the four architectural styles
and variations in the Prairie Trail pattern book.
This home at Prairie Trail built by Caliber Homes is an exquisite example of European Romantic architecture complete with a dramatic brick turret and striking dormer, hallmarks of this style of home.
Characteristics of the European Romantic homes you'll see at Prairie Trail also include steep roof pitches with dormers, balanced vertical window and door locations and porches often notched out under an extended roof. Simple detailing and massive brick or plaster chimneys are also significant elements in the massing of the home as shown in this stunning home built in 2010 by Dallenbach and Larson.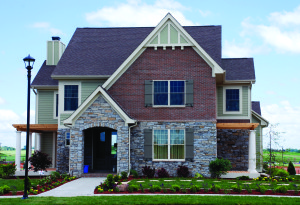 In addition to architectural design, color plays a vital role in creating the distinct community that is Prairie Trail. So much so that design professionals from Sherman Williams created custom color schemes for each style of home.
The color schemes for the European Romantic include a body of neutrals in colors like Greek Villa (SW 7551) and Steamed Milk (SW 7554) with trim selections in rich earth tones like Eclipse (SW 6166) and Black Fox (SW 7020). Bold and dramatic accent and door selections come in Cascades (SW 7623) and Rustic Red (SW 7593). The color schemes are stunning combinations that compliment the architecture, landscape and overall character of the development.
In addition to the European Romantic, those looking to build a home at Prairie Trail have multiple options to choose from based on the other three architectural styles: Colonial Revival, Arts & Crafts and Victorian.
Want to learn more about the homes of Prairie Trail? Visit us on Houzz to view our idea books including home interiors.
Learn more about building your dream home by contacting Ashley Johnson, DRA Properties
Manager, at 515.965.5249.