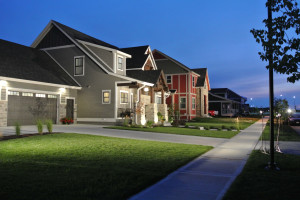 Prairie Trail is a 1,031 acre planned community based on the principles of New Urbanism community design.
Built on the tradition of Iowa's great neighborhoods, Prairie Trail is a tapestry of diverse and distinctive homes, neighborhood stores, nearby offices, schools and parks. It's a walkable development with less traffic, more sidewalks and trails that connect the entire development to the City of Ankeny. Prairie Trail is a place for people to meet and interact. It's part of a comprehensive conservation design approach that makes the best use of existing topography and natural waterways while also adding stunning views.
We are proud of the high standards set for space planning, site preparation and building practices during the purposeful design and planning stage in 2006 – 2007. This process relies on collaboration of key people from the City of Ankeny, business leaders, urban planning experts and D.R.A. Properties. During the tough economic times of 2008 – 2009, those people continued to work hard to stay true to the principles originally established. The investment in infrastructure continued and when potential homebuyers and businesses were ready, Prairie Trail was ready to go with new streets and utilities in place.
When you visit Prairie Trail today, you will see the dream becoming reality with more than 300 new homes and 100 more in various stages of construction across many neighborhoods. You'll see the spectrum of housing options.
As described by Ashley Johnson, Marketing Director for D.R.A. Properties,"Today, we have the spectrum of offering to satisfy every lifestage. We've always served young families well, because they love Ankeny's quality schools. We now have more builders who are building homestyles and prices that are attractive to singles, young professionals and empty-nesters, including multi-family rentals, the brownstones and the villas." 
And, you'll see new businesses opening in Prairie Trail in The District, Plaza Shoppes, State Street Plaza and more. We're especially excited to showcase Prairie Trail this summer at the 2015 HomeShow Expo with homes in the newest neighborhood, The Estates at Prairie Trail next to Chautaqua Park and a short walk from the amenities in Plaza Shoppes.
Additional Resources
The planning team visited several communities who were the first to embrace New Urbanism like Stapleton, Colorado & Norton Commons, Kentucky.