Exceptional education is an important part of the Prairie Trail lifestyle, making the planned urban development in Ankeny a perfect fit for the new Simpson College. Simpson is moving from its current Ankeny location into new facilities in The District at Prairie Trail in time for Fall semester.

The new Simpson location will be on the second level of Vintage Main, a 67,000 square foot building currently under construction at Vintage Parkway and Main Street in The District. Simpson will have nearly 6,000 square feet on the second level including a gathering space in the second floor atrium with views to the southwest overlooking Promenade Lake near Jethro's BBQ Lakehouse. The District at Prairie Trail will be home to retail boutiques, coffee shops and restaurants, convenient amenities for Simpson students who tend to move quickly from work to class in the evenings.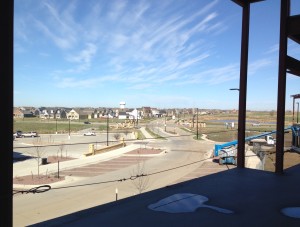 The Prairie Trail development is a community based on the New Urbanism principles of walkability, sustainability and the collaboration between business, community and developer. Dennis Albaugh, CEO of Albaugh, Inc. and DRA Properties, and the developer of Prairie Trail, said the agreement with Simpson College typifies collaboration associated with New Urbanism.
"We believe in the value of education and we're very proud to welcome Simpson College to Prairie Trail," said Albaugh. "We know they have and will continue to serve this community very well."
Albaugh, who is devoted to education, established the Prairie Trail Scholarship Program in 2008 to encourage residents of Prairie Trail to pursue higher education. The program has become a signature selling point to prospective homeowners and to date has awarded more than $107,000 to students attending many Iowa colleges, including Simpson.

In addition to the beautiful historic campus in Indianola, Simpson College has two branch campuses, one in West Des Moines and an Ankeny campus for the past ten years. Simpson in Ankeny primarily serves transfer and adult students in evening, online, continuing and graduate programs. All Simpson campuses serves area employers as their training, workshop and retreat locations.
Prairie Trail welcomes Simpson College and its reputation for exceptional education to The District and the entire Prairie Trail community!