Pet lovers unite during Puppies in the Park at Prairie Trail on Saturday, August 2 in beautiful Precedence Park. Puppies in the Park celebrates the healthy lifestyle of living at Prairie Trail. Local businesses are teaming up to support an active day in the park with our canine companions and to celebrate the healthy choices they inspire. We are grateful for our event sponsors and their commitment to healthy communities and people and pets alike! Check out our "pawesome" sponsors and all that they'll bring to Puppies in the Park on August 2.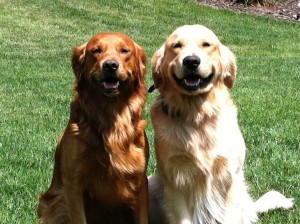 UnityPoint Clinic Family Medicine at Prairie Trail is the Presenting Sponsor of Puppies in the Park. Being engaged in the community and promoting a healthy lifestyle is important to the physicians at UnityPoint Clinic Family Medicine at Prairie Trail. Health and wellness champion and dog-lover Dr. Doug Layton will be at Puppies in the Park to speak about healthy lifestyle choices and share ways that he includes his Golden Retrievers, Kona and Copper into exercise and keeping active.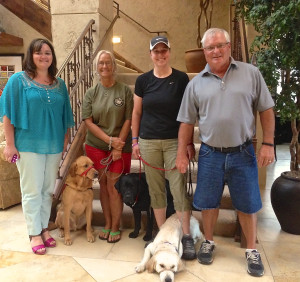 Local training facility Canine Craze always supports puppies in the park, especially healthy, happy, well trained pups. You won't want to miss tips from owner Renee Jetter who will be holding training demonstrations throughout the morning. As Iowa's premier training facility for people and their dogs, training at Canine Craze emphasizes essential life skills to becoming an integral part of your family and the community.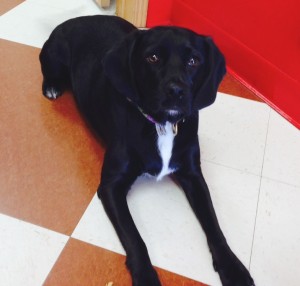 Those entering into the Doggie Photo Contest will be excited to know that Ankeny's own Brown Dog Bakery is providing one of our puppy-approved grand prizes. With a store full of "all the best holistic dog foods," owner Anna Woodcock and fearless shop dog, Divet, have put together an awesome prize basket full of goodies including gourmet dog treats, toys and more.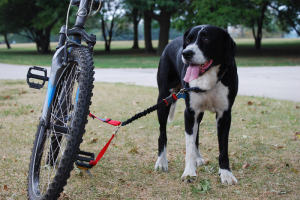 And if you're searching for a fun fitness solution for you and your pup you'll want to check out prize sponsor and exhibitor DoggerJogger. The DoggerJogger is a bike dog leash that lets you jog your dog in the "safety zone" alongside your bicycle. Come on out to Puppies in the Park and try it out for yourself! Sedgwick is pictured here with the DoggerJogger. 
Other community and canine-minded event sponsors include A+ Lawn and Landscape.  A+ Lawn and Landscape will cover all event lawn and landscape needs and offers expertise on lawn care with a pet. Just imagine keeping your lawn looking picture-perfect even with your canine friend's playful handiwork.
A huge thanks to all our business sponsors for participating in Puppies in the Park and supporting a healthy, active lifestyle for people and pets alike! You are "pawsome!"
Read more about our sponsors here.