Welcome to Prairie Trail, a place that will positively redefine the balance between home and work, marketplace and green space, private life and public involvement.
Prairie Trail is a 1,031 acre planned community built on the tradition of Iowa's great neighborhoods.  It's a tapestry of diverse and distinctive homes, neighborhood stores, nearby offices, schools and parks.  It is a walkable development with less traffic, more sidewalks, 200+ acres of parks and 13 miles of trails that connect the entire development to the City of Ankeny.
Based on the unique neighborhoods of yesterday with continuous sidewalks, tree-covered lawns, connecting trails, and corridors—the character of these homes is built in!
Does that sound perfect? Well take a look at a few of the homes in Prairie Trail that are built in the architectural style called Colonial Revival, one of the four traditional styles of the community.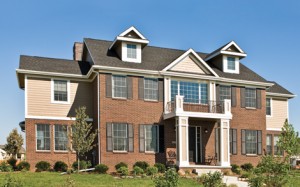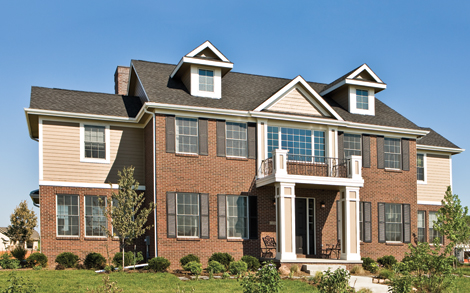 What's your style?
Learn more about the four architectural styles
and variations in the Prairie Trail pattern book.
The Prairie Trail Colonial Revival style is based on Colonial Revival styles that were prevalent throughout the country in the late nineteenth and early twentieth centuries.  Elements from Classical and Colonial house types were combined and modified.  This mixing of architectural elements produced a wide variety of expressions and forms in the Colonia Revival house. Many of the houses incorporate deep front porches, running the entire face of the façade. That's one reason Prairie Trail is a place for people to meet and interact.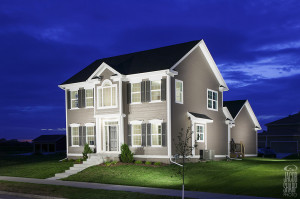 Along the unique streetscapes at Prairie Trail, you'll see examples of Colonial Revival homes in custom color combinations like Latte (SW6108), Hopsack (SW 6109) and Rock Bottom (SW7062) or a soft Earl Grey (SW7660) house trimmed in Big Chill (SW7648) with Rockwood Green Sash (SW2810) accents.
These are just two of the six custom color combinations created by the design professionals at Sherwin-Williams especially for Prairie Trail. Based on the design elements in Iowa's historic neighborhoods and appropriate to the heritage of the central Iowa region these color schemes offer residents endless options when building a Colonial Revival home at Prairie Trail. It's one of our favorites!
Learn more about Prairie Trail by visiting www.prairietrailankeny.com  To see more Prairie Trail homes – inside and out –viewing our idea books on Houzz.