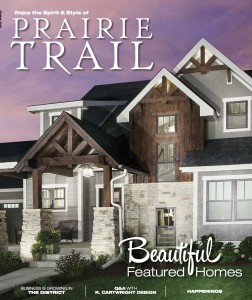 News coverage about Prairie Trail started the moment the land was purchased in 2005. Follow Prairie Trail on social media as we share news articles about new businesses, homebuilding and happenings.
Media Contact:  Ashley Johnson, Marketing & Sales Director, D.R.A. Properties, L.C. 515.965.5249 or ashleyj@albaughllc.com
Prairie Trail Magazine
The Prairie Trail magazine provides insight on New Urbanism, tells the stories of residents of Prairie Trail,
shows off the beautiful homes and highlights the uniqueness of our business partners.
It offers deep, rich content with beautiful photography that is devoured by loyal readers.
Our goal is to help the market understand the unique attributes of choosing to live at Prairie Trail, a community
founded on the principles of New Urbanism. We are actively selling residential lots, supporting our
Prairie Trail builders and attracting new businesses to locate at Prairie Trail.
The magazine is produced annually. Publishes November/December.
Past issues are available on the website in digital form here.
For information about advertising contact:
Mary Jo Meister at 515.554.1057 or mj.meister5@gmail.com
Resources
There are many resources on the website including the Prairie Trail pattern book, maps, covenants, Architectural Review Board details,
Prairie Trail Scholarship program info and more. Look here first:
Links below on this page
Resources in the top nav bar
Footer on every page
If you can't find something you need, please shoot us an email at info@prairietrailankeny.com
Links
The site is also rich with many links to our businesses, city of Ankeny, Des Moines metro organizations and more.
If you find a link that's broken or needs updating, let us know.
Brand Manual (new brand manual coming soon)
City of Ankeny
DRA Properties
DMACC Foundation
Ankeny Community Schools
Follow us on Social Media for behind-the-scenes insights, beautiful photography, news and information. You will see our social media platforms on the
homepage, in the top navigation and on the right rail. Please follow and share about Prairie Trail!