Picture It


History & Vision
Prairie Trail is a fantastic project that enhances the already vibrant central Iowa community of Ankeny. With obvious pride, former Ankeny City Manager Carl Metzger, touted the cooperation between the City of Ankeny and DRA Properties. "As a city, we have spent considerable time working to connect this sizable piece of property to the existing components of our community. We feel Prairie Trail makes that connection and so much more."
He explains that there are other, smaller projects around the state with similar goals, but Prairie Trail, with its 1,000-plus acres, will make a huge impact. Even though it is large in scale, it still fits with what already is in Ankeny and with the lifestyle that many people want.
Tim Moerman, Ankeny Director of Economic Development, sees Prairie Trail as a historic venture for the city, for central Iowa, and for the Midwest. "For cultural, entertainment, and recreational purposes, we are creating venues for people to connect and shape the future with this exciting project."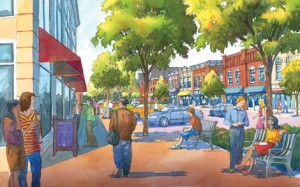 He explains that people choose to move to Ankeny for the sense of community it offers, and the Prairie Trail concept enhances that feeling.
"People look for ways to connect. They grew up in small towns, or they appreciate the charm of central Iowa towns, such as Adel, Pella, or Winterset, or they love parts of Des Moines, such as Beaverdale, South of Grand, or the East Village. They identify with those neighborhoods, and they want to live that lifestyle."
Prairie Trail has been meticulously planned to encourage walking, riding bikes, visiting with neighbors, flying kites, and watching fireworks. The amphitheater in Promenade Park will offer an exciting lineup of outdoor concerts and festivals. There will be restaurants and entertainment venues for entertaining friends and relatives. Plus, the District will be chockfull of retail businesses that will provide sources for staples and
delightful extras.