Prairie Trail is excited to welcome another exceptional business to the community. Lincoln Savings Bank (LSB) recently celebrated the groundbreaking of their newest Ankeny location at the corner of State Street and Magazine Road near the entrance of The District at Prairie Trail.
LSB is slated to open in the Fall of 2014 and adds to a growing number of amenities in the New Urbanism development which was purposefully designed for easy access to shops, restaurants and businesses – necessary musts for busy modern living.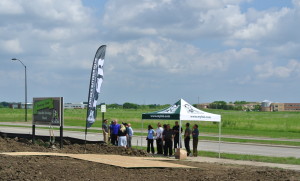 "Prairie Trail has so much to offer with local businesses and great neighbors," says Jason Larson, Mortgage Banker for LSB. "The opening of Lincoln Savings Bank in Prairie Trail will allow me to work and serve the community that I call home."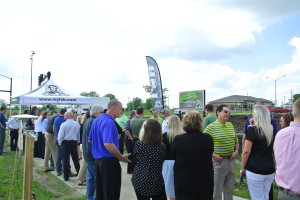 A full crowd gathered for the ground breaking including members from the Ankeny Chamber as well as Dennis Albaugh, owner of DRA Properties, developer of Prairie Trail, and Development Coordinator Tara Meredith. LSB's President, Steve Tscherter spoke of their enthusiasm to be part the Prairie Trail Community. The opening of Lincoln Savings Bank at Prairie Trail will mark the end of a significant career in banking for Tscherter. At the end of this year, Steve will retire and Erik Skovgard will assume the additional responsibilities of President.
Lincoln Savings Bank is working with Hubbell Realty Company and Simonson & Associate Architects to build the 10,365 square foot building.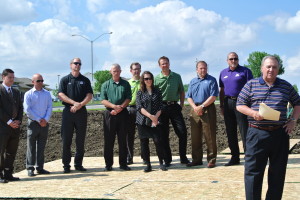 Lincoln Savings Bank joins the construction boom in The District at Prairie Trail – the entertainment town center destination located just off State Street. The District will be home to retail boutiques, dining and entertainment venues making this an exceptional location for the bank. Progress of the newest building, Vintage Main a 2-story, 67,000 square foot office and retail space can be seen just beyond the new location for LSB. Vintage Main will be home to Fitness World at Prairie Trail and Simpson College at Prairie Trail campus with space still available.
A big Prairie Trail welcome to Lincoln Savings Bank. Watch for more business announcements coming soon!
Follow Prairie Trail on Twitter and Facebook for the latest on business announcements.