It's back-to-school time for Ankeny students, from elementary through high school and those heading off to college. How fortunate that our students attend some of The Best schools in the country! Ankeny High School, nationally ranked by US News and World Report in June 2013 and #10 overall in Iowa. And just this week, Ankeny made the 'Best Places to Live' list by CNN Money Magazine, with praise for low cost of living, 3.4% unemployment rate and the many parks and trails available.
It's no surprise that Prairie Trail residents consider education an important factor when choosing to build their home at Prairie Trail. Pictured here are the 2013 Prairie Trail Scholarship recipients. This is the fifth group to benefit from the program, which is dedicated to helping students gain higher education and advance their careers.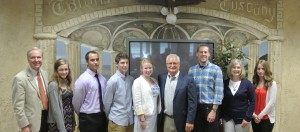 Realtor.com, a resource for homebuyers, says their research indicates people will pay more for a home in the school district of their choice. Luckily, at Prairie Trail you get both affordability and outstanding schools.
If you're interested in living at Prairie Trail, connect with one of our custom homebuilders and find out just how affordable building your dream home here can be!
We're proud of our schools and our students. All THE BEST to everyone this school year!