At Prairie Trail, you can live here, work here and play here.
Cheryl Cardin lives in the Prairie Trail development and works here too, teaching first grade at Prairie Trail Elementary. The First and Fourth Grade Buddies Program at the school is designed to partner older and younger students on various activities throughout the year. Last Friday, they worked together to help others by packaging meals for Meals from the Heartland.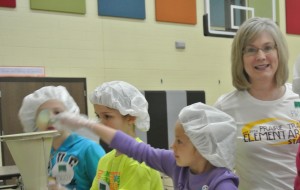 Since 2008, Meals from the Heartland has provided more than 22 million meals to the hungry in Iowa and around the world.
Joel O'Dell, Hunger Fight Manager from Meals of the Heartland, Pam Dodge, Principal at Prairie Trail Elementary and many volunteers helped make it all happen.
"Teachers are always looking for authentic ways for students to practice skills and demonstrate good citizenship, so when Cheryl (Cardin) came and shared the idea her team had been discussing, I was completely supportive," said Dodge.
Together, adults and students raised money for supplies and organized the entire operation in the lunchroom at the new Prairie Trail Elementary School. They raised more than $3,000 and made 13,760 meals.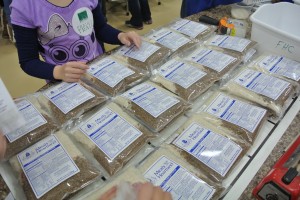 "I was reminded as I watched the parent and community volunteers show up in droves, and the students and teachers work collaboratively, how fortunate we are to be part of this Prairie Trail Community." Dodge said  "This was a great opportunity for our students to help children around the world who may be less fortunate. "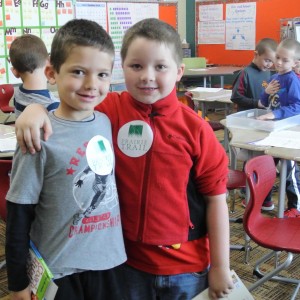 People are drawn to live in Ankeny because of the outstanding school system, low tax base and easy commute. Prospective homebuyers who are considering a move to Prairie Trail, are often looking for even more.
Prairie Trail is a planned urban community, which means it's designed as a walkable development with less traffic, more sidewalks and trails that connect the entire development to the City of Ankeny. It's a tapestry of diverse and distinctive homes, a growing collection of neighborhood stores, nearby offices, schools and parks. Cheryl Cardin is the perfect example of why we say: At Prairie Trail, you can live here, work here, and play here.
Thank you to the Prairie Trail businesses who sponsored the event.  And a big thanks to the parent volunteers and students of Prairie Trail Elementary!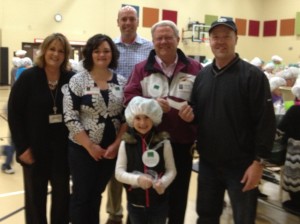 Pictured: PamDodge, Principal of Prairie Trail Elementary,  Ashley Johnson of Prairie Trail, Jason Loutsch of MJ Properties; Ron Sampson of Iowa Realty, Joel O'Dell of Meals from the Heartland.
To see more news and photos about the event visit the Ankeny School District website; the Des Moines Register photo gallery and follow Prairie Trail on facebook.