Ryan and Tara Watermiller dreamed of getting married, buying a home and starting a family. Their journey began a few years ago when Ryan moved to Ankeny and took a job in IT at The Principal Financial in Des Moines. Tara followed two years later, a CPA who also commutes downtown to The Principal. After establishing their general location, they were ready to find a place to call home.
"We used to drive through the Prairie Trail area just looking at the homes," said Tara. "We knew we weren't ready yet, but we developed ideas of what we wanted." The couple appreciated the in depth community planning, the uniqueness of the streetscapes and the architectural styles.
After talking to a few builders and their parents, their dreams started to take shape.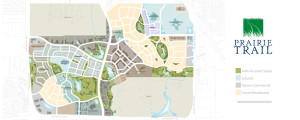 First they focused on finding the right lot. "We liked the back lots because we wanted a ranch with daylight windows on the lower level," explained Ryan. Tara jumped in eagerly to describe how the daylight windows let in tons of natural light and make the below ground level feel just like the upstairs, "We know we want to start a family and we planned two bedrooms downstairs, which is why we wanted the daylight windows." This led them to a lot on Cascade Falls Drive, owned by Kimberley Development.
Prior to meeting with the builders, the Watermillers had already researched the homebuilding process, determined their likes and dislikes, and had selected several custom home plans. As they continued to learn more, a natural radioactive gas called radon, a cancer causer, became a concern of theirs. The state of Iowa is considered at high risk for radon gas, therefore according to Iowa law; realtors are required to discuss the effects of radon gas and how the home is protected. Ryan and Tara were pleased when their realtors addressed the concern before the Watermillers even had a chance to ask.
After learning a radon mitigation system installation is standard procedure for Kimberley Development and all builders at Prairie Trail, Ryan and Tara were ready to move on to other things. The couple poured over plat maps. They studied the Prairie Trail website and the four architectural styles. They began to sort through their housing priorities while maintaining their budget.
A large kitchen pantry, a good sized master bedroom, an open floor plan with no formal dinning room, and a covered deck were deemed must haves. "We also liked the lower level bar area that was in the original plan, but we postponed it for now," says Tara. "We had to compromise to stay in budget and we were not about to cut the covered deck. It's really important to us because we like to hangout with friends and family."
With a detailed list and schedule from their builders in hand, Ryan and Tara are enjoying the process as each step unfolds. "Kimberley Development has their own designer, who took the things we wanted and built our custom home plan design," Ryan continued. "It makes me smile because they call it The Watermiller Plan now."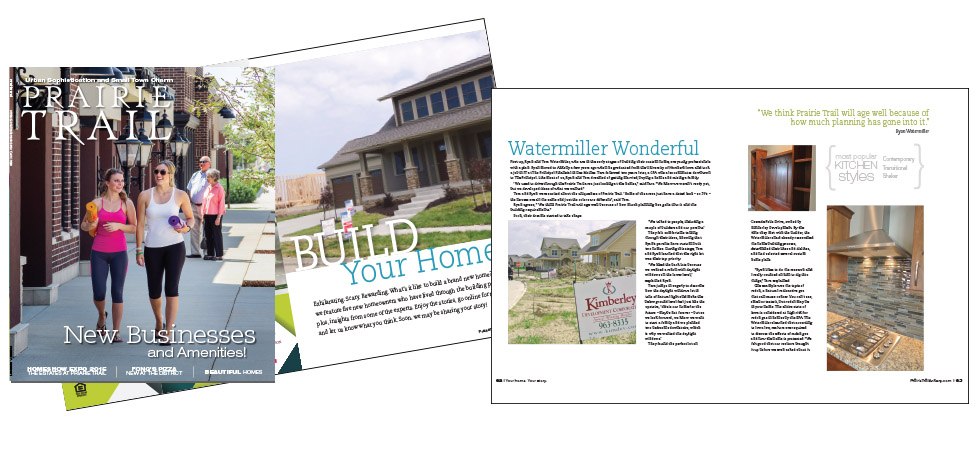 Read more about Prairie Trail homeowners in the 2014 Prairie Trail magazine (click the image above for the online version. "Build Your Home" starts on page 61). Find more homeowner stories here. Enjoy as we follow the Watermillers journey of building their custom home. Here is part 2!