Thirty-five years ago, The Center of Neighborhood Technology (CNT), was founded in Chicago by a group of people dedicated to the idea that 'place matters'. They believed that we were creating living environments detrimental to our health because environmental factors like long commutes, suburban streets without sidewalks and little green space contributed to negative lifestyle choices.
Live. Work. Play.
Even in Iowa, suburbanites can leave the office after a long day, walk to their car without leaving the pavement, drive a modest commute – 15 minutes that can feel like 40 – and pull into the garage, too exhausted to think about getting back in the car to drive to a restaurant or the fitness club or even the grocery store. The stress, inactivity and poor food choices in turn have contributed to scary statistics like the doubled rate of diabetes in the last 15 years.
The CNT set a course to create awareness and change. Along the way, terms like New Urbanism and Planned Urban Development sprang up in an attempt to identify a neighborhood with a sense of community and belonging. These are communities designed as a collaboration between residential, business, commercial development and schools, parks and public services. Communities where people live, work and play. This is the foundation of Prairie Trail in Ankeny.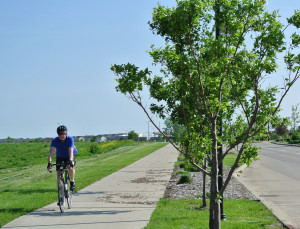 Sustainability and Walkability
Prairie Trail was designed in harmony with the typography of the land, like natural slopes, water spaces and elevations of the rolling prairie. In the process, more than 13 miles of trails and 200 acres of parks were created. Residents can take advantage of these public spaces for walking, biking, picnicking or simply enjoying time together.
Casually enjoying time together 
is reminiscent of traditional Iowa small towns, where school activities involved the entire community and neighbors became friends. Research tells us that this sense of place and familiarity creates two other healthy attributes: social interaction and safer environments.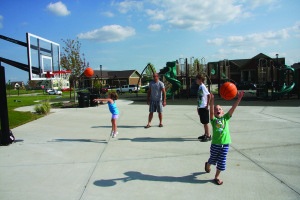 Can living at Prairie Trail really make you healthier?
We asked another set of experts, our local physicians. Dr. William Vandivier, Dr. Doug Layton and Dr. Pamela Sufka-Boyd shared their thoughts about Prairie Trail, living a healthy lifestyle and changes in healthcare on the local level.
Dr. Vandivier grew up in Ankeny and joined Mercy Prairie Trail Family Medicine two years ago. He is familiar with the concept of the Prairie Trail development.
"The biggest thing in medicine right now is the change in delivery of medical services," says Dr. Vandivier. "At Mercy Prairie Trail Medical Clinic, the model is very similar to the 'city within a city' concept of Prairie Trail."
The result is a more consistent delivery of quality healthcare based on the knowledge and familiarity between the patient, physician and staff.
Dr. Vandivier tells us, "It means that when you call into the clinic, you see the same doctor every time. The same nurse every time. It gives us the opportunity to really get to know our patients on a personal level, so we can provide the best care possible." To some, that might seem like a standard expectation patients have of their doctors and nurses. But in this age of routine emergency room visits and internet diagnoses, it's a new concept.
"In the next two years," Dr. Vandivier adds, "I believe we'll see even more medical information on the internet and more patient learning, than we've seen so far."
He touts the Mercy Clinic system as one reason patients benefit. "As a doc, I have access to a system of Continual Medical Education (CME) components that don't interfere with patient time."
Dr. Vandivier says it's a lot like watching Prairie Trail being developed. "Pushing and challenging to best deliver care to a community often times changes the way we interact with colleagues, creating a better standard. Just like at Prairie Trail, where people benefit from being together." Dr. Vandivier said, "People get tied together because of their experiences. You can bike ride to get to everything here. It becomes part of the lexicon of how you grow up and influences your future."
Dr. Doug Layton has practiced in Grimes and Ankeny for many years. He too finds similarities in a planned urban community like Prairie Trail and family medicine.
"At UnityPoint Clinic Family Medicine at Prairie Trail, we practice family medicine the way it used to be. If you get a laceration during the day, don't wait two hours in Urgent Care. We expect you to come here. See somebody you know instead of somebody you don't know and who doesn't know you."
UnityPoint Clinic Family Medicine at Prairie Trail is undergoing a process to be named a Certified Medical Home, a new designation referring to the fact that the Family Clinic is the doctor you go to for everything. "There is a body of knowledge that is beneficial in this type of practice," says Dr. Layton. "You know your patient and their prescriptions, for instance, because you've been involved at each step. It's more robust than what we used to call coordinated care."
The recent name change from Iowa Health to UnityPoint Health is a reflection of the changes happening in medicine.
Dr. Layton even helped connect the dots on the reason behind the name change as he explained, "The whole switch of the name to Unity is that we are structured to 
be centered around the patient, not the clinic. At Prairie Trail, we are part of the community and want to be just
 as engaged with the community as the residents. We hold educational group visits or classes for diabetic patients, for instance. I'll take fifty-percent of the visit and our dietician will have the other fifty-percent. "
Dr. Layton and his staff believe sharing knowledge and patient education are all part of UnityPoint Clinic's mission to positively impact prevention and wellness. We decided to take him up on the offer, so be sure to check out his monthly blog on the Prairie Trail website at prairietrailankeny.com/blog.
Dr. Pamela Sufka-Boyd, or "Dr. Pam" as her patients like to call her, is a familiar name in medicine because she's been practicing in Central Iowa for many years. As a family practice physician with The Iowa Clinic, Dr. Pam is part of a new and growing group of primary care practitioners for the clinic.
While moving beyond their well- known reputation in healthcare specialties to add more primary care physicians may be a big change for The Iowa Clinic, Dr. Pam's focus on patient care is the same.
"I have the same thoughts and feelings about primary care medicine as I've always had," she explains. 
"I want to engage with patients.
 It's very easy to say, 'do this'. Have your colonoscopy at 50. Be up-to-date on paps and mammograms. Get on a care plan. But to me, that's not enough. I try to lead by example."
She's an avid exercise enthusiast. Lives on a farm. Up at 4:45am to get her workout in. At the office by 6:30am.
"I love to be outside. I like walking, swimming, tennis. I typically do 30-45 minutes of cardio, 5 days a week," she said, describing her routine. "At Prairie Trail, you live so close to everything. You can get on your bike and ride a short distance to catch the trails."
And just like Prairie Trail — built on the great traditions of Iowa's heritage, but designed for today's lifestyle — when it comes to her patients, Dr. Pam is anything but nostalgic for the past.
"Today, we have better guidelines," Dr. Pam explains. "Yes, we've always had diabetic patients to manage, but today's numbers are tighter, more definitive. The goals for managing cholesterol levels are also more focused and definitive because the data is better. I can help my patients better understand preventative care with more meaningful data. It simply becomes part of their decision-making."
Purposefully Designed for Activity

Dr. Vandivier, Dr. Layton and Dr. Pam are three wonderful examples of access to outstanding healthcare professionals who are right here in the neighborhood and who clearly care about their patients. Because Prairie Trail is purposefully designed as a walkable community with nearby bike trails and natural green spaces that encourage neighborhood gatherings, we know we are on the way to a healthier community. It's just easier to make healthy choices when it's all right here.