May is National Bike Month. A month to celebrate the power of cycling for play, health, the environment and even work. Yes, that's right, we said work. Commuting to work by bike is a growing trend and one that is already being embraced by Prairie Trail residents like Marc Weston. Starting each spring, Weston commutes to work from Ankeny to Ames by bicycle each day. "Amazingly there is a bike path/lane the entire distance," says Weston.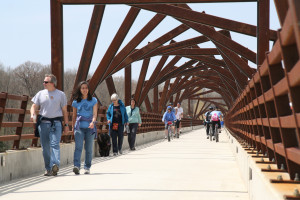 The sheer number of biking clubs and groups that have popped up over the last few years, including enthusiasts on social media, shows that cycling is about connectivity. It's about being connected with people, with the land and with the health benefits that come with being physically active and socially connected.
Connectivity is the same driving force behind the planning and design of the Prairie Trail Development in Ankeny, Iowa. Built on the principles of New Urbanism, Prairie Trail is a tapestry of diverse and distinctive homes, neighborhood stores, nearby businesses, schools and parks. A rich network of trails and bike paths connect the neighborhoods to each other, to The District town center and to local and regional park amenities.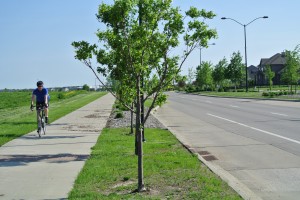 It was a priority for community leaders to take advantage of Prairie Trail being located in the heart of Central Iowa's 670- mile trail system. The 13 miles of trail within the community directly connect to 34 miles already in Ankeny and lead to regional trails.
Learn more about the trail system here.
The people who choose to locate their businesses at Prairie Trail are also deeply connected to the concept of New Urbanism, especially those in the health care field.
Dr. William Vandivier, a family physician at Mercy Prairie Trail Family Medicine, knows first hand how collaboration and connectivity effects patient care. "The biggest thing in medicine right now is the change in delivery of medical services," says Dr. Vandivier. "At Mercy Prairie Trail Family Medicine, the model is very similar to the 'city within a city' concept of Prairie Trail." The result is a more consistent delivery of quality healthcare based on the knowledge and familiarity between the patient, physician and staff.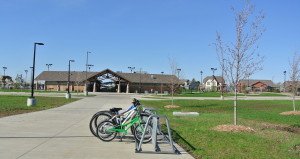 "Pushing and challenging to best deliver care to a community often times changes the way we interact with colleagues, creating a better standard. Just like at Prairie Trail, where people benefit from being together." Dr. Vandivier said, "People get tied together because of their experiences. You can bike ride to get to everything here. It becomes part of the lexicon of how you grow up and influences your future."
Learn more about the health benefits of living at Prairie Trail including expert advice from local physicians by following the Prairie Trail blog.
Whether it's Bike Month, Bike to Work Week or anytime of year, New Urbanist communities like Prairie Trail are making it easier to live healthier, happier and more connected lives.