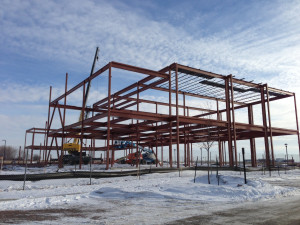 There is always the excitement of anticipation between the announcement and the grand opening. Below are new businesses that have opened their doors at Prairie Trail in 2014 or businesses that have broke ground and we are eagerly anticipating the opening of in 2014.
Simpson College at Prairie Trail 
Simpson College at Prairie Trail announced in April that it will move its current Ankeny location to the new Vintage Main building in The District at Prairie Trail. Read more on the Prairie Trail blog.
McDonald's
McDonald's Prairie Trail opened in February of 2014 at the corner of State Street and Oralabor Road.
CH Robinson
A 20,000 sq. ft. professional office space is under construction on State Street. This state-of-the-art new building will be the new headquarters for CH Robinson. There is an additional 8,000 sq. ft. of available space in this building that will soon be available for one or more tenants.
Vintage Hills Senior Living
An expansion of Vintage Hills Senior Living began in July, on Magazine Road. This will add independent living space to the current senior housing cooperative.
Fitness World Prairie Trail
In Jan. 2014 Prairie Trail announced the new Fitness World Prairie Trail, a full-service, state-of-the-art fitness club, will be located in a brand new 67,000 sq. ft building called Vintage Main. Fitness World Prairie Trail in Ankeny is currently under construction and slated to open in Dec. 2014. Read more on the Prairie Trail blog.
Press Release