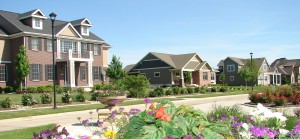 From the beautiful streetscapes to the individual character of the homes to the outdoor spaces, Prairie Trail has been purposefully designed. Here are just a few examples:
This is a photo of Precedence Street. Notice the uniqueness of the home exteriors. In many of today's suburbs, it's much more common to see row after row of beige siding and large cement driveways.  Residents who choose to live at Prairie Trail have endless options in designing their home. And to keep it easy, our homebuilders understand the concept and work with the Prairie Trail design standard to maintain the uniqueness of the neighborhoods.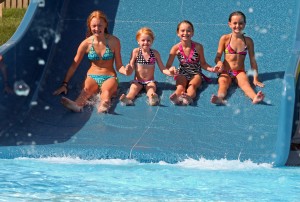 The Cascade Falls Aquatic Center is a very popular space at Prairie Trail. It's located on 16 acres just west of the Precedence neighborhood. It's a showpiece facility with more than 21,000 feet of water surface. It has a 640ft lazy river with an action channel or wave generator; an 8-lane, 250-meter lap area; a zero-depth are with water play features; several slides and a swirl bowl. Opened in July 2010, Cascade Falls Aquatic Center is the most state-of-the-art water facility in Iowa.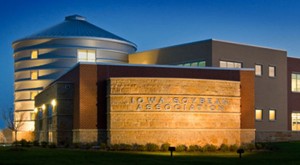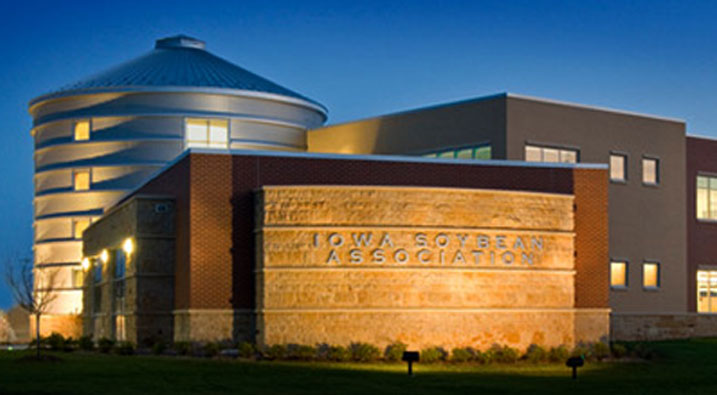 This is the Iowa Soybean Association Headquarters, one of the first commercial structures built at Prairie Trail in. The 30,000 square foot brick and limestone building has a circular atrium designed to look like a metal grain bin. In addition to the work of the Soybean Association, the building is used for educational programs by nearby Des Moines Area Community College students.
Please explore our website to learn more about Prairie Trail and if you are interested in living here or locating your business here, contact us at info@prairietrailankeny.com.