Prairie Trail is buzzing with new construction homebuilding. If you're looking for that special new home with all of today's latest and greatest features, consider new construction at Prairie Trail.
House hunting is fun, stressful, challenging, exciting, intimidating and exhilarating. It doesn't matter if you're a first-time homebuyer, moving up or downsizing. Interest rates are at all time lows. New listings don't stay on the market long as more prospective homebuyers are looking for their dream home. And, the most prized features for today's lifestyle are difficult to find in homes that were built just 5-7 years ago. Open floor plans have become very popular, for instance. Drop-points – that spot near the rear entry where coats, books, shoes and bags get put down first – are at the top of the most desired list according to a recent survey by NAHB Economics and Housing Policy Group. Gettting a home that fits your lifestyle, and your budget can be the best reasons to choose new construction.
You might be surprised to learn that it doesn't take very long to go from moving dirt to moving in. Some homes in Prairie Trail are going from start to finish in less than ninety days. Or, consider a builder spec home that is in progress with much of the work already done. These brand new homes are just waiting for you to select interior finishes, flooring or appliances and add your personal touch.
Working with a great builder is the first step to a positive experience. Most builders have a unique style — an approach or signature features that set their homes apart.  Drive by their properties, look online, and discover what you admire most.
We'd like to introduce you to the builders of Prairie Trail. Watch this space to get an inside look at what makes our builders so special.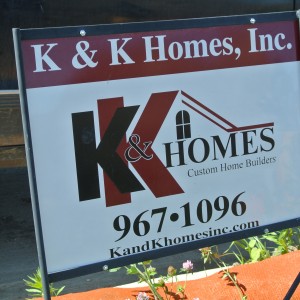 First up, K&K Homes.  Kevin Yoakum and Kelvin Langmaid are meticulous custom builders. You'll see many unique details in K&K homes. K&K embodies the true meaning of the Prairie trail lifestyle because Kevin Yoakum lives here, plays here and works here. A few years ago, Kevin built his own home at Prairie Trail and today K&K Homes started a new builder spec home at 2312 SW17th Street.
In these photos, taken the first of July, the crew was working on the front entrance. Drive by and take a look. It's a sweet Arts & Crafts style ranch home on a choice lot and a quiet street. Learn more at  www.KandKHomes.com or reach them at 515-967-1096. You can also contact Abbey Robertson at Century21Real Estate 515.333.3492.