It's still raining in central Iowa. Usually by Memorial Day weekend, we are enjoying long days of sunshine, just right for families picnicking in the parks, bicyclists out in full force and kids spending long afternoons at the pool.  Although Summer may be a bit delayed, the haphazard sunshine and rain of the Spring of 2013 has given us beautiful green spaces– a little wet – but still lush grasses and blooming flowers.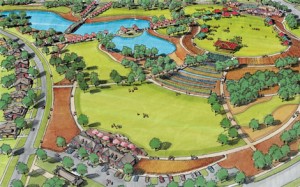 Prairie Trail includes more than 200 acres of parks and open spaces devoting nearly 20 percent of its 1,031 acres to public use.  Original plans developed in 2005, call for a series of neighborhood parks, including water courses, restored prairie plantings, passive and active recreation areas, ponds and picnic areas to be located within less than ¼ mile of all homes.
While creating fabulous neighborhood green spaces is a part of the master plan, it takes a great deal of work and expertise to make it a reality. Recently, we shared some time with Linda Struthers, landscape designer for Albaugh, Inc., and Prairie Trail.
Q:  Prairie Trail has been in development for 5-6 years and it's truly amazing to see how the community has grown, including the landscape and gardens.  What is the state of the plantings given the rainy and cold weather we've had this Spring?
Linda: The development is designed to showcase native plant material. At various stages during the summer and fall there are flowers that are doing their thing and there are others that die back. There are grasses and things that will come up eventually. We're a couple of weeks behind, but the irises just began to burst into bloom last week and the roses are about ready to pop.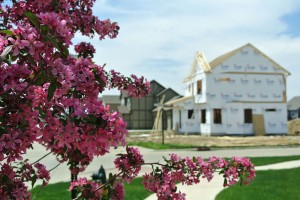 Q: Do you believe there needs to be a good mixture of plant materials including natural grasses and more colorful flowers?
Linda: I think foliage is a color. Green is a color. In the Fall, we get beautiful reds and purples. We don't just need flowers all the time. We do need foliage, different shapes of foliage because it's eye-catching. I would like the landscape to be interesting so when people ride their bikes or take their evening walk, they enjoy something all along the way.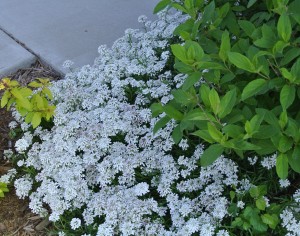 Q: There are four traditional architectural styles of the community, appropriate to the  heritage of the central Iowa region. Do you think of the foliage as having a certain style?
Linda: I see the whole development as beautiful homes, but yet rather informal. The homes are informally placed. There are such different styles, too. It's really fun to drive through here and see the different architecture and the different colors. It's not all just taupe. Homeowners choose different landscaping and it's great. Some people want to do their own (landscaping). Some people would prefer not to fuss outside, so they hire it done.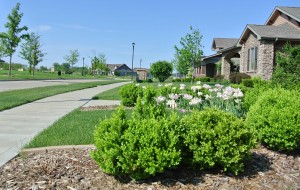 Q: You have a fascinating job. Did you always know you wanted to do this kind of work?
Linda:  No, actually. I consider it agriculture and I've been in some form of agriculture most of my life. When I was younger, it was farming. We actually grew trees on 30 acres. We really tried to grow the native trees and any type of tree that would grow here.  Then, we had our nursery, tree farm, and garden center. That got me started. That was a previous life, but it's what got me interested in landscape design and colors.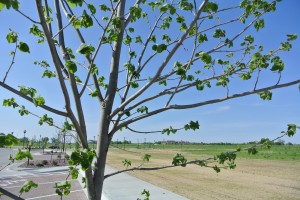 Q: Do you have any formal training in landscaping?
Linda: I've taken continuing education classes at the University of Nebraska and I learned a lot. But, I actually grow the trees and plants at home, so you learn about a plant by being around it and watching what happens over several seasons.
You also learn by making a mistake or two. You might think something will work in a certain spot, but there are individual little micro-climates. There might be a little something going on in a certain place, like when we're working around a house or throughout the development. For instance, recently we planted some favorite choices on the east side of a house and we thought it would work out just fine. However, there is a stone patio that surrounds that particular space and it heats up as it catches the sun. It gets hotter than expected. So, you learn about it as you go.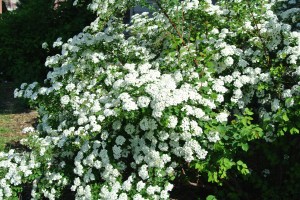 Q:  As an expert in growing beautiful plants in residential and public spaces in Central Iowa, any advice for the rest of us?
Linda: I believe landscapes are renewable. Try it and see what works. You can find great plants everywhere. You do have to watch some of the zones on the label. Most are labeled with the zones in which their plant material is supposed to do well. But, sometimes they send the same plant shipment to many stores, so it will do fine in Tennessee but will fry out in July/August in Central Iowa.
We are zone 5. You used to see zone 4 to the north and then there was a dot right down here in the Des Moines area. It was a cold spot. Some people say it's because of the two rivers that come together and create a little zone all its own.
Q:  How many hours do you spend on an average day to get everything to look so beautiful?
Linda: When I'm here I pretty much focus on what I need to get done in a day.
Q: Last question: Do you have any favorite plants or flowers?
Linda:  I'm a rose girl. I just finished a landscaping where we put in more than 40 roses. It turned out great. They are a constant color. Roses have some nice buds right now. They will be bursting with blooms soon and will last until frost. What other flowers can you say will last that long?
We're only a couple of weeks behind. It will turn to summer yet, pretty sure. Please come back and visit in about three weeks, we'll have new areas of natural prairie grasses done.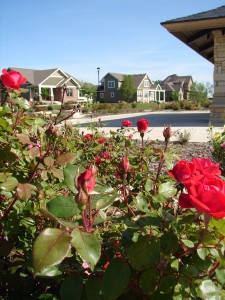 Thank you, Linda!
Look for more Q&A sessions with Linda Struthers in the coming weeks. And, if you would like to ask Linda a gardening or landscaping question, please leave a comment below or direct message @PrairieTrail on twitter.