The idea for developing Prairie Trail as a planned urban development began in 2005.  Today, the Prairie Trail community in Ankeny, Iowa, is a dream becoming a reality as the residential community has grown and new businesses have located here. Part of a true planned urban development is the walkability factor.  Walkability means that residents naturally incorporate more walking into their daily lives because the development was designed with plenty of community parks, local businesses within walking distance and activities to enjoy with neighbors.
As we celebrate Earth Day, residents of Prairie Trail shared some of their thoughts about living in this planned urban development.
"It's the little things like walking to get the mail and running into a friend that makes us want to be outside all the time in Prairie Trail."
"There are always hi's and time for chats as we see neighbors on our morning walks or sitting on the porch in the evening."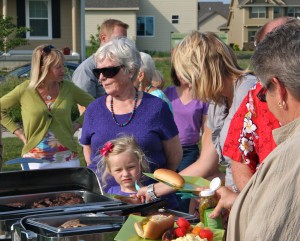 "I know having such a close knit community makes getting out and walking fun – we always know we're going to run into someone and share a smile and a quick chat. We also are excited to have more and more opportunities to put away our keys at the end of the day and walk to nearby attractions."
Thank you Kendra, Jennifer and Kristi. And Happy Earth Day everyone!