Living and establishing a business in a growing community like Ankeny, Iowa is an exciting time as the city hits a population milestone of 50,000 (and counting).
For Dr. Daryl Rauser and his wife Alissa, moving back to their hometown of Ankeny to start their new business, Healing Paws Veterinary Clinic, and raise their family was a dream come true. "We always new we wanted to settle back in Ankeny," said Dr. Rauser. Being drawn by their home-town values and wanting a family-oriented community, they chose to build a home in the Prairie Trail development and also built their new business just blocks away.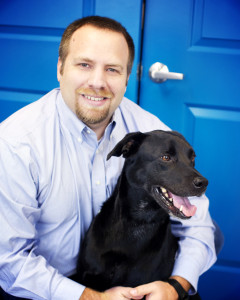 Dr. Rauser is excited to be serving the pet healthcare needs of the community he grew up in. He has chosen to focus his practice on being a traditional, family-focused veterinarian while offering a state-of-the-art, modern facility for all your pet's healthcare needs.
"We take a family approach, much like what living at Prairie Trail is all about. We focus on continuation of care and create relationships with our clients," said Dr. Rauser. "You get me every time."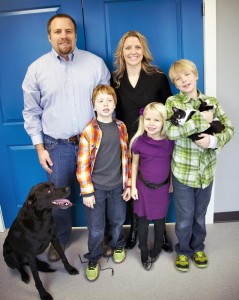 Dr. Rauser, Alissa and their three children enjoy the parks and trails of Prairie Trail and are often out in the neighborhood running, playing and walking their dog Bell. Be sure to wave a friendly hello to your neighborhood veterinarian when you're out and about in the neighborhood!
You can also meet Dr. Rauser and learn more about Healing Paws Veterinary Clinic during Puppies in the Park on August 2 from 10 a.m. to 1 p.m. at Precedence Park. Dr. Rauser will speak about the benefits and do's and don'ts of exercising your pet.
For more visit them at www.ankenyhealingpaws.com and on facebook.com/healingpawsveterinaryclinic.