It's finally Spring and we have a lot to share at Prairie Trail in Ankeny. New homes are going up. New neighbors are moving in! Come and see how easy it is to build your new custom home.
Prairie Trail in Ankeny Iowa, one of the areas fastest growing cities, is just bursting with good news this Spring.  More than a dozen homes are in mid-construction by Iowa's best builders like Caliber Homes, Dallenbach & Larsen, Brezina Homes, MJ Properties, The Building Company and more.  These award-winning builders have mastered the art of building the home of your dreams with state-of-the-art features that today's homeowners demand. And, they choose to build at Prairie Trail because of the opportunity to create uniquely designed homes in a community dedicated to open and shared green spaces, out-of-sight driveways, best practices and materials that allow each of us to lighten our footprint on this earth.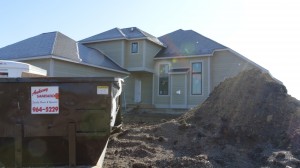 At Prairie Trail, you'll find homes beginning in the low $200,000 range with endless options among four styles that represent Iowa's heritage: European Romantic, Arts  and Crafts, Colonial Revival, and Victorian.
Browse our beautiful homestyles in the photo gallery and get details in the pattern book pages. And please visit us on facebook/prairietrailankeny to let us know what you think.
Questions? Feel free to contact one of our builders directly, or call us at 515-964-9444. We love to share Prairie Trail.