Congratulations!
The 2017  Prairie Trail Scholarship recipients were recently recognized at the annual awards dinner.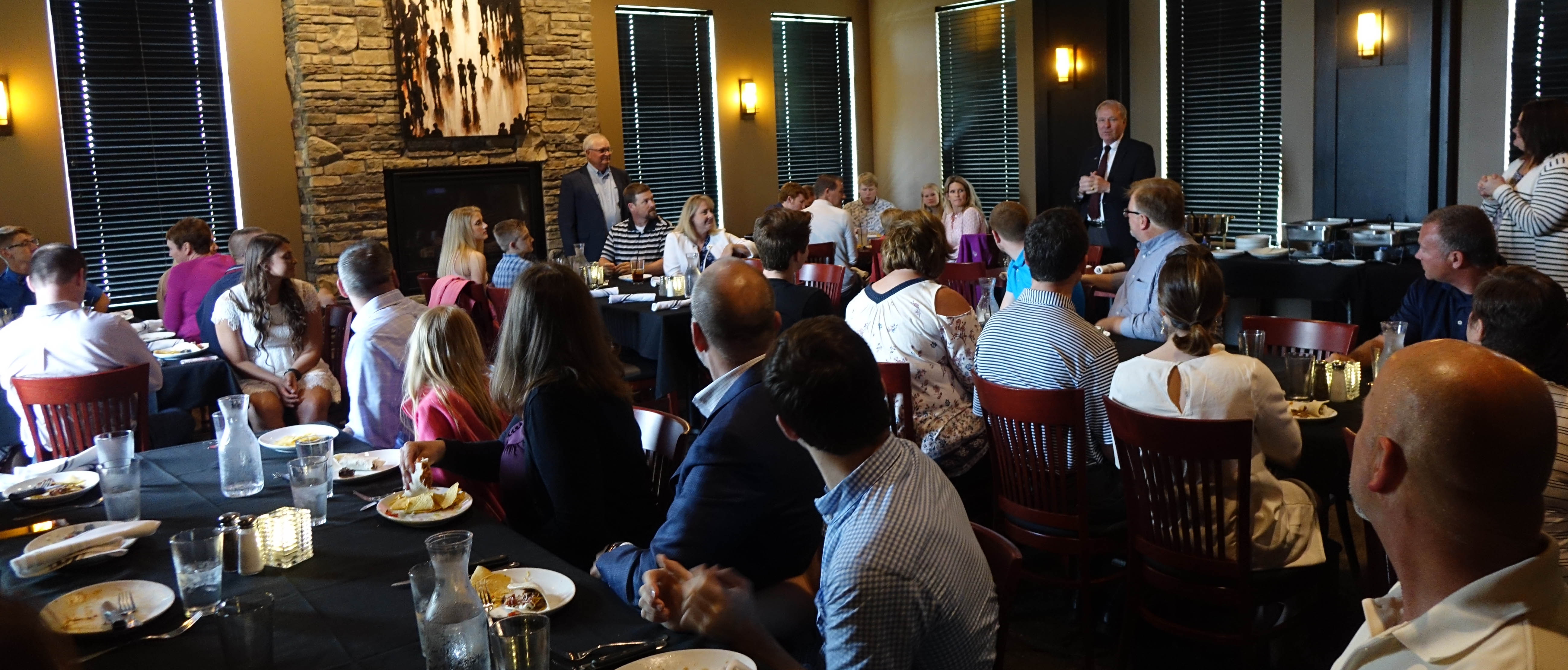 Group photo left to right: Sydney Downing, Zachary McKee, Mckaylin Noltensmeier, Jonah Plummer, Olivia Slater, Blaine Hawkins, Alyssa Parker, Dennis Albaugh, Prairie Trail developer, Rob Denson, DMACC president, Leah Hill, Raegan Moeller, Kelly Lindaman, Brett Guy, Sarah Gubbels, Zane Johnson.
2017 Prairie Trail Scholarship recipients not pictured: Joseph Cardamon, Kelly Current, Renee gookin, Hannah Johnson, Brooke Osburn, Chelsey Stephenson, Darian Swinehart, Colin Urquhart.
The Prairie Trail Scholarship was established in 2008 to benefit residents pursuing higher education. Applicants are eligible to receive $2,500/year with a maximum lifetime award of $10,000. The Prairie Trail Scholarship is unique. It is believed to be the one of the only scholarship programs in the U.S. offered by a community development.
Since 2008, more than $235,650 has been awarded. Prairie Trail Scholarship award winners have gone on to study in a variety of fields, including: aesthetics, criminal justice, education, leadership, aerospace engineering, law, business and more.
We are very proud of the residents, students and the impact the Prairie Trail Scholarship has had on their lives. Future forward, the fund is self-sustaining as one half of one percent of the sale of all property in Prairie Trail is allocated to the scholarship program.
"The idea is that when you're here, you take advantage of it and when you move on from Prairie Trail, you pay-it-forward to the next residents," explains Ashley Johnson, Marketing Director for D.R.A. Properties. "It should benefit residents of Prairie Trail for a long time to come."
Three great reasons to choose Prairie Trail
Outstanding schools.
A focus on education and achievement.
The Prairie Trail Scholarship Program.
Ask your realtor for details!