Dog lovers at Prairie Trail know the satisfying feeling of walking with their dog through the park on a beautiful summer evening. The morning crew gets the day started with a brisk run with their canine companion through the parks and trails. If you wouldn't dream of using either one of these images to describe you and your pet, then you will appreciate the wisdom and skill of Renee Jetter and the trainers at Canine Craze.
We're excited to have Renee join us at Puppies in the Park on August 2nd to share tips and techniques of successful dog training.
Renee is lucky to be working in a field she dreamed about as a child. She didn't grow up with dogs in her family, but fell in love when she started volunteering at the local animal shelter when she was nine years old. "I did everything, from bathing the dogs and cleaning up to just spending time with the dogs," Jetter said.
When the time came, Renee went to the Animal Behavioral College in California, a program that requires an internship in your local area. Renee's internship was with Scott who opened Canine Craze here in Des Moines in 2006. Scott's experience in the field goes back many years, including his work with aggression cases and dogs at Lamar Dixon during Hurricane Katrina. The love story continued because the two were soon married and the proud owners of four personal dogs: German Sheppards (Czar and ZeeAnna); a Border Collie (Zing) and an Austrailian Kelpie (Audacious)
Here's Renee with Czar as they recently achieved a milestone in obedience training (BH) this June.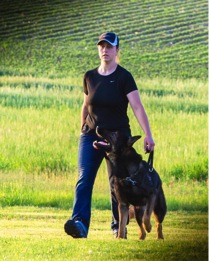 Canine Craze offers a variety of services from classes and workshops to private lessons and even boarding. The website is very informative with year-round learning opportunities, resources and links to important connections in the dog training world.
They have built a successful business doing what they love and in the process have garnered an outstanding reputation. It's not surprising then that the Puppy Jake Foundation connected with Renee and Scott to serve this important cause.
Becky Beach and her Golden Retriever, Breck, have been long-time clients of Canine Craze. "I chose Canine Craze because of their complete package," says Becky, "It's a unique focus of building a relationship with the dog, levels of obedience and positive training philosophy."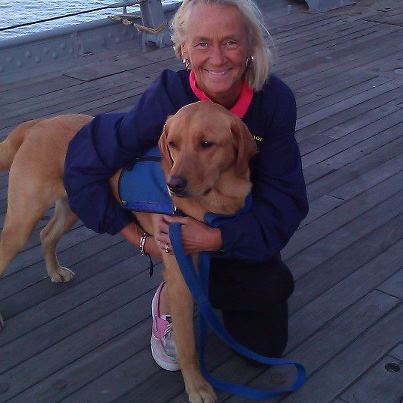 "Service Dogs are really the next level of a well-behaved pet," continues Becky. "That's why we started the Puppy Jake Foundation. The need is high and the level of training is crucial. You have to be confident enough to turn a life over to an animal.
At Prairie Trail, we love our dogs. Puppies in the Park is an exciting first time event for us. We know true dog lovers also recognize and respect the importance of well-behaved pets that are a joy to be around.
Renee says, "Just like humans, no dog is perfect. I've trained well over 1,000 dogs, but dog training isn't dog training, it's people training."
Please welcome Renee as one of our special guest speakers on Saturday. Come on out and play – and learn more about your dog too — at Puppies in the Park!
Learn all about Puppies in the Park, speakers and sponsors, and register your dog for the Doggie Photo Contest here.