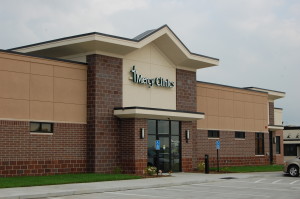 Mercy Prairie Trail Family Medicine Clinic opened in July of 2011.  Conveniently located for Prairie Trail residents and all of Ankeny, Mercy Clinic at Prairie Trail is a family practice focused on community with a small-town feel. We also have a strong focus in our clinic on lifestyle medicine, affordable weight loss pharmaceutical options that can be dedicated to people to lose weight in a safe, affordable, sustainable way, and provide osteopathic manipulation to help with chronic and acute musculoskeletal disorders.
Location:
2605 SW White Birch Dr.
Ankeny, IA 50023
Phone: (515) 643-7100
Fax: (515) 643-7145
Physicians & Providers:
Jason Kopp, DO
Amy Mitchell, DO
Tristan McKenna, DO
Erin Zea, ARNP
Meghann Smith, PA
Hours:
Monday – Friday, 8 a.m. to 5 p.m.